Marcus & Millichap Stock is a great long-term play (NYSE: MMI)
Real Estate Investment Services Company, Marcus & Millichap, Inc. (NYSE: MMI) is a small player in the rapidly growing real estate market. The company had a great 5 year run growing revenue, increasing profitability and spitting free cash flow at ever higher rates. The company's business model is built on a strong customer base, and broader industry and economic trends support long-term growth. The company's free cash flow is trading at a yield of nearly 15.7%.
Good, but not good enough
Over the past five years, Marcus & Millichap is up 41.85% (at the time of writing), compared to 51.46% for the S&P 500 and 21.46% for the Russell 2000.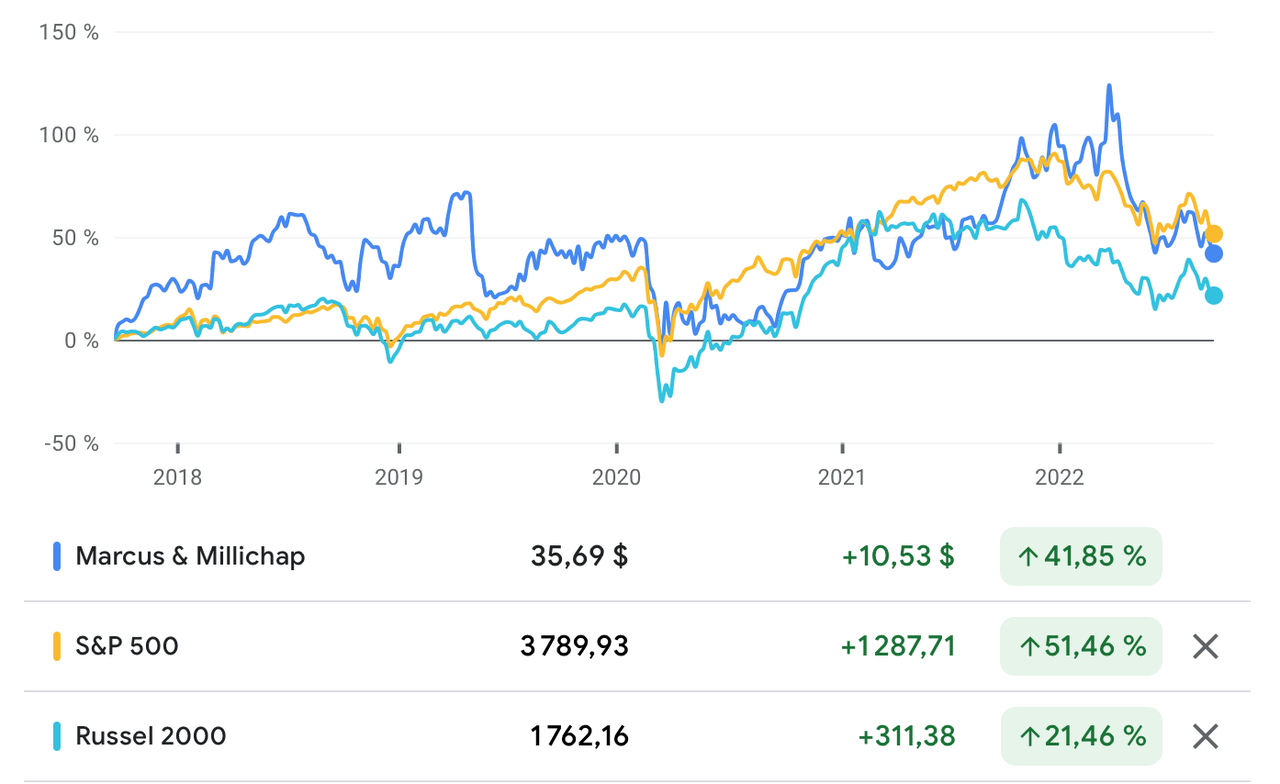 During this period, CBRE Group, Inc. (CBRE) is up 96.37%, Colliers International Group, Inc. (CIGI) is up 117.72%, Cushman & Wakefield plc (CWK) is down 30.30%, JLL (JLL) is up 28.77%. %, and Newmark Group Inc. (NMRK) is down 31.97%. The company performed well, but not enough to beat the market or its peer group.
The business case
Marcus & Millichap derives its revenue from real estate brokerage commissions and commercial property financing fees, as well as providing a variety of services. In 2021, more than 90% of the company's revenue came from real estate brokerage commissions.

The company has four market segments: properties priced below $1 million; the private client market with properties priced between $1 million and $10 million; the middle market with properties between 10 and 20 million dollars; and the largest deal market with properties worth over $20 million. The private client market is the company's largest segment, accounting for approximately 59% of company revenue.

The segment's asset turnover rates are high. Private clients are less inclined to make real estate decisions due to macroeconomic factors and are more motivated by changes in personal circumstances. This is an important differentiator between the company and its peer group, which are focused on large investors, or lack a national platform, or are focused on leasing or property management. Thus, Marcus & Millichap has a degree of robustness in its business model that its competitors do not have.
The question for long-term investors is: are the supply factors in commercial real estate such that investors will continue to invest there in search of rental income?
The value of commercial real estate has continued to grow
Despite the apocalyptic rhetoric about the death of bricks and mortar, commercial properties have remained robust. The value of commercial real estate has steadily increased in the United States, with the Bank for International Settlements [BIS] commercial price index going from 126.6 in Q1 2014 to 212.17 in Q4 2021.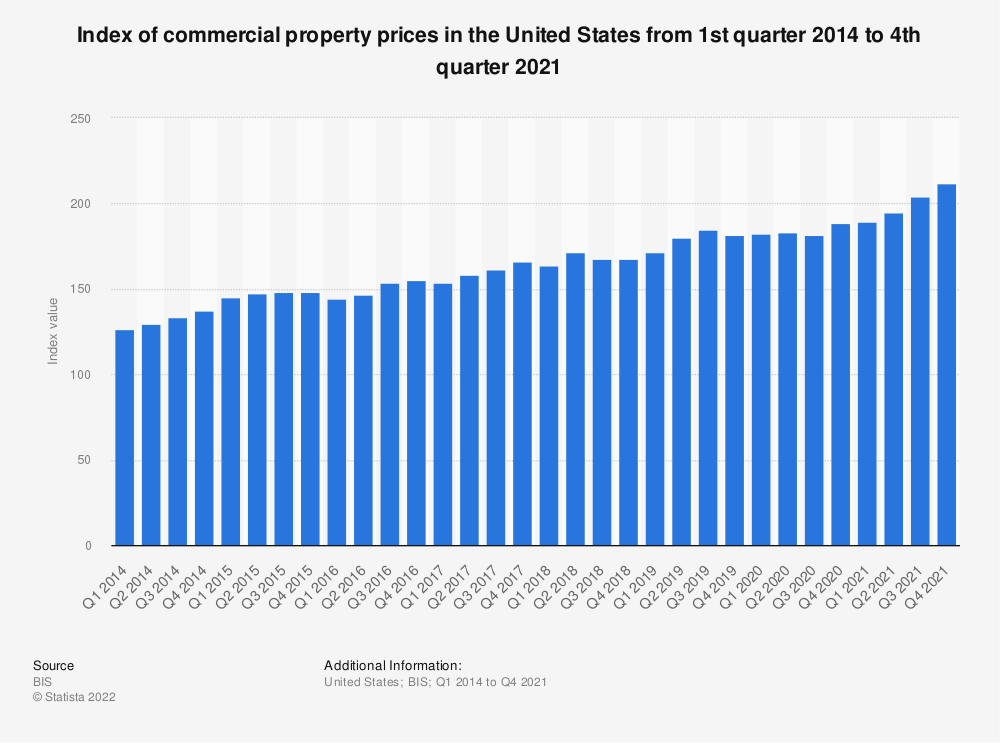 Although a recession can reduce the value of commercial properties, for a long-term investor this should not be of concern because in the long term the United States needs commercial properties.
Rental growth remains strong
Rent growth has accelerated over the past three years and has been extremely good. According to Marcus & Millichap's August 2022 investor presentation, rental growth has been strong in commercial properties.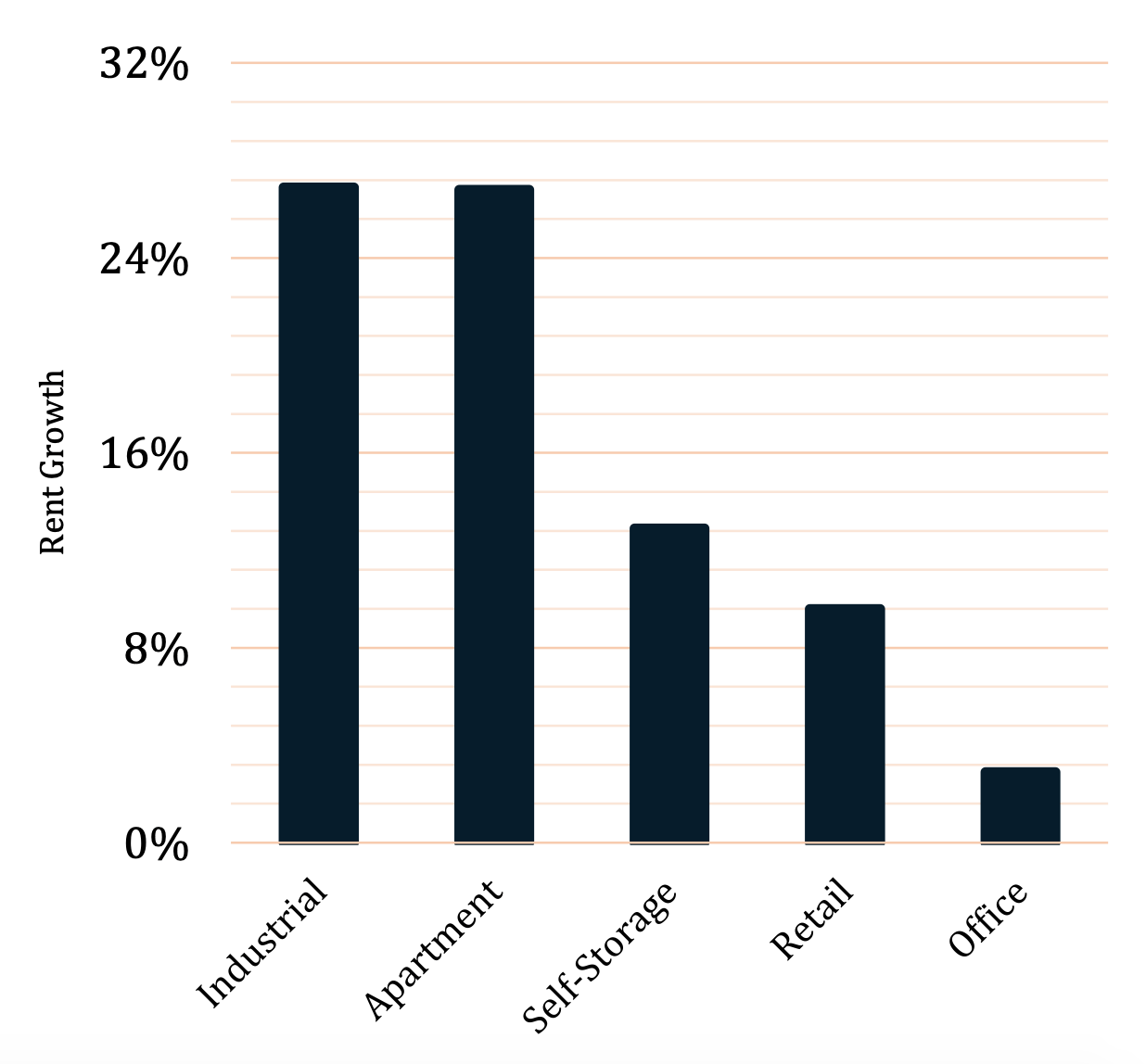 Considering that we are still in a low interest rate environment, the attractiveness of this growth will keep the market stable.
We remain in a low rate environment
While interest rate hikes will dampen the market, it should be noted that the United States and the West as a whole remain in a low interest rate environment. In fact, Bank of England research shows that over the past eight centuries, interest rates have steadily fallen. While in the short term nominal interest rates may decline, given the forces of globalization and capital growth, in the medium term real interest rates will resume a downward trajectory. In other words, it will continue to get cheaper and cheaper to buy commercial properties.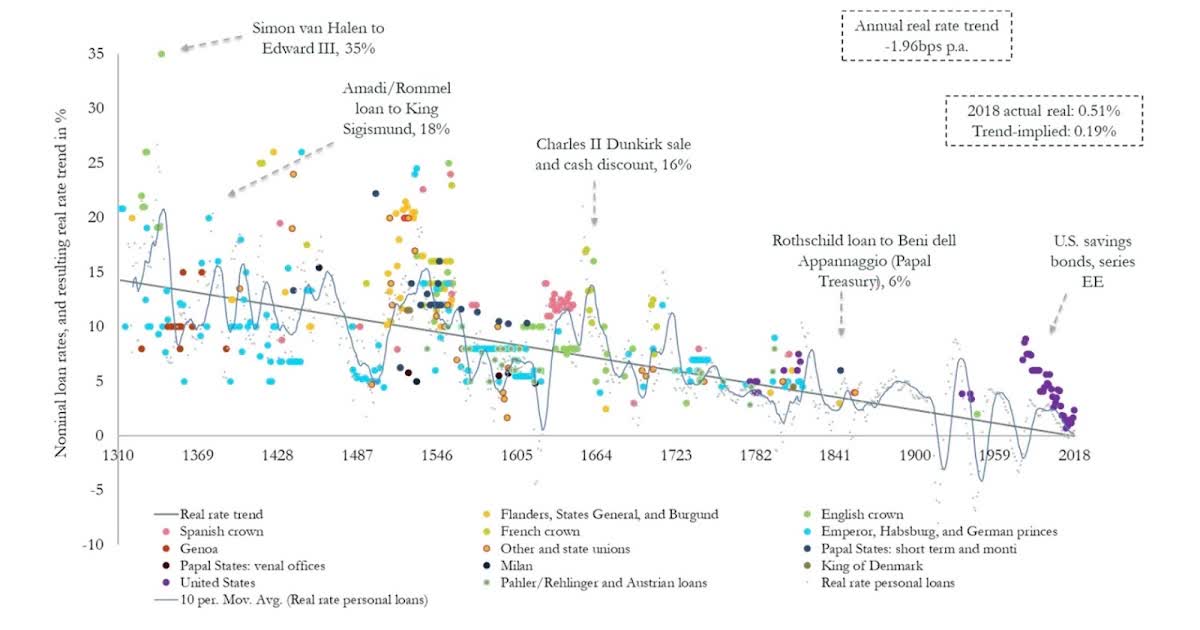 Remote work will drive demand for small offices
The market for properties between $1m and $10m is likely to grow due to the Covid-19 pandemic and the emergence of remote working. As companies are forced to adapt to remote and hybrid working models, the era of large headquarters will fade and the demand for smaller satellite offices will increase. Remote work has not only become entrenched in worker consciousness, it has real benefits for many types of businesses that do not rely heavily on in-person worker collaboration to create value. This can cause rents to rise even during the recession as businesses move away from traditional models.
Exceptional financial performance
Between 2017 and 2021 (financial results here), Marcus & Millichap's revenues grew from nearly $720 million to nearly $1.3 billion, at a 5-year compound annual growth rate [CAGR] of 12.49%. According to Credit Suisse's The Base Rate Book, only 12.6% of companies achieve this growth rate over a 5-year period. In the last twelve months [TTM]revenue reached nearly $1.543 billion.
Gross profitability in 2017 was 0.59, falling to 0.43 in 2021. Although the company's gross profitability has declined over this period, it is still above the 0.33 threshold which, according to Robert Novy-Marx, makes an action attractive. In the TTM period, gross profitability increased to 0.55.
Marcus & Millichap's operating profit margin increased from 13.4% in 2017 to 14.6% in 2021. Operating profit margin increased to 14.8% during the TTM period. This shows that the company's competitive positioning has improved over this 5-year period.
Revenue growth, gross profitability and operating profit margin are all persistent over 1, 3 and 5 year periods.
The company's net income has grown from over $51 million in 2017 to over $142 million in 2021, with a 5-year net income CAGR of nearly 23%. During the TTM period, the net profit is more than $170 million. Only 8.8% of companies achieved a similar growth rate over a 5-year period. Diluted earnings per share [EPS] fell from $1.32 in 2017 to $4.24 during the TTM period. There is a connection between profits, especially if this growth is unexpected. Given the company's undervaluation, I expect future returns to be good. Nevertheless, BPA growth is not very persistent.
Return on invested capital [ROIC] decreased from 54.2% in 2017 to 43.9% in the current period. This reflects a combination of natural decline, acquisitions of Metropolitan Capital Advisors, Mission Capital and LMI Capital, and market trends.
Free movement of capital [FCF] rose sharply from nearly $60 million in 2017 to just over $249 million in 2021, for a 5-year CAGR of nearly 33%. It's a phenomenal comeback. During the TTM period, the FCF dropped to nearly $161.5 million.
Interest rates can hurt demand
While the commercial real estate market has shown strength in recent years, the commercial real estate boom ended in the third quarter of 2021. In an environment of rising short-term real interest rates, it It is quite possible that the demand for commercial goods will, on the whole, go down. This will impact prices, and therefore the real estate brokerage commissions received by Marcus & Millichap, even if they maintain the same volume of business given the resilience of its clients.

If the current economic crisis worsens, forcing the Federal Reserve into a prolonged cycle of interest rate hikes, it could significantly harm the company's business.
Evaluation
With $161.5 million in FCF over the TTM period and an enterprise value of just over $1 billion, Marcus & Millichap has an FCF return (FCF/enterprise return) of nearly 15, 7%. That's more than the FCF yield of the largest 2,000 US-listed companies, as measured by financial services firm New Constructs: 1.7%. The company's fast-growing FCFs are therefore trading at a very attractive rate.
Conclusion
Marcus & Millichap has a proven track record of growth, profitability and strong competitive positioning. The company's financial performance has improved in all metrics over the past five years. Furthermore, general market trends indicate that there is a stable basis for long-term growth that can overcome the disruption caused by the recession. Finally, the company's fast-growing FCFs are trading at very attractive levels.