The Match Out: ASX Breaks Through, AGL Loses to Grok, Tech Rebound Continues – James Gerrish
The local market broke through the 7200 resistance today in a positive start to the week that saw Tech continue its positive momentum. Yields took a breather and that allowed growth names to find their feet. Materials were also well bid on positive commodity prices, although the energy sector was left behind despite another positive move in oil markets today. Utilities underperformed the broader index and was the only sector to pull back on the day.
The ASX 200 finished +103pts/+1.45% at 7286.
The technology sector was the best in the field (+4.59%) while materials (+2.20%) was also strong.
Utilities (-0.69%) was the only sector to trade lower today, AGL was the main drag.
Technology was well positioned throughout the session as bond yields consolidate. The most beaten names were the stars today.
Bubs Australia (ASX: BUB) +40.21%, up after receiving FDA approval to sell 7 of their brands in the US market. The news also helped Milk A2 (ASX: A2M) rebound of 10.42%.
AGL Energy (ASX: AGL) -1.69%, down after plans to spin off its power generation business were abandoned. Management said the required 75% of shareholders were unlikely to vote in favor of the move.
nib Holdings (ASX:NHF) +0.68%, again postponed its contribution rate increase. Policyholders are expected to save about $40 million, but the feather continues to see lower-than-expected claims, helping to support the backlog.
Liontown Resources (ASX: LTR) +5.3%, extended talks with Tesla on a 100,000 dry metric ton (dmt) offtake deal.
ANZ, +0.35%, is being sued by ASIC after allegedly overcharging credit card holders on cash advance fees when balances were credited after depositing money. It appears to be a niche event and stocks were unmoved by the news.
Iron ore was around 2.5% higher in Asia today, supporting Fortescue (ASX:FMG) +1.33%. Rio Tinto (ASX: RIO) underperformed due to new taxes on US dividend payers.
Gold was up another +0.5%/US$9 to US$1,862. Gold stocks also traded well today
Asian stocks were also strong, with Hong Kong +1.94%, Japan +2.19% and China up +2.12%
US futures are all up sharply. S&P up 0.9%, Nasdaq +1.5%, although the US market is closed tonight for Memorial Day.
ASX 200 board
Bubs Australia (ASX: BUB) 68c
BUB +40.21%: The infant formula company today received FDA approval to sell canned food in the US market. America is battling an infant formula shortage after several brands were forced to recall products that had caused bacterial infections in a number of children, while supply chain issues compounded the problem. As a result, the FDA accelerated the process to have seven of Bubs' products available for sale in the United States with 500,000 boxes ready for immediate export. Bubs confirmed that an additional 750,000 boxes would be made available in the coming months as it seeks to increase production at its FDA-registered facility to triple capacity. Prior to the announcement, Bubs had about 13 million shares sold short, contributing to the early surge in the stock price.
bubs australia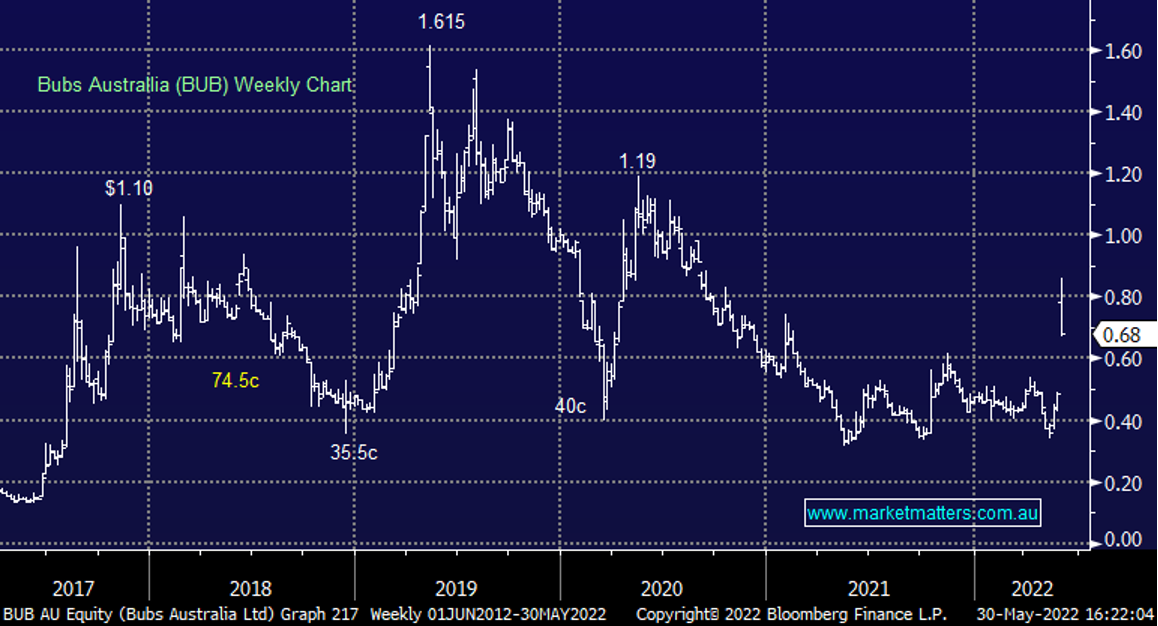 AGL Energy (ASX: AGL) $8.72
AGL -1.69%: Australia's largest energy retailer scrapped plans to spin off its generation business, with the chief executive resigning following a failed move. The company said it was unlikely to reach the 75% shareholder approval vote, with Mike Cannon-Brooks' Grok Ventures lobbying against the split and launching a takeover bid to challenge it. Management held 11.38% of the voting rights, and with other notable shareholders showing up to block the plans, AGL had no choice but to back down. A review is now underway and AGL is expected to engage with Grok Ventures to formulate a plan moving forward. The shares are trading well above the repurchase price of $8.25/sh.
AGL Energy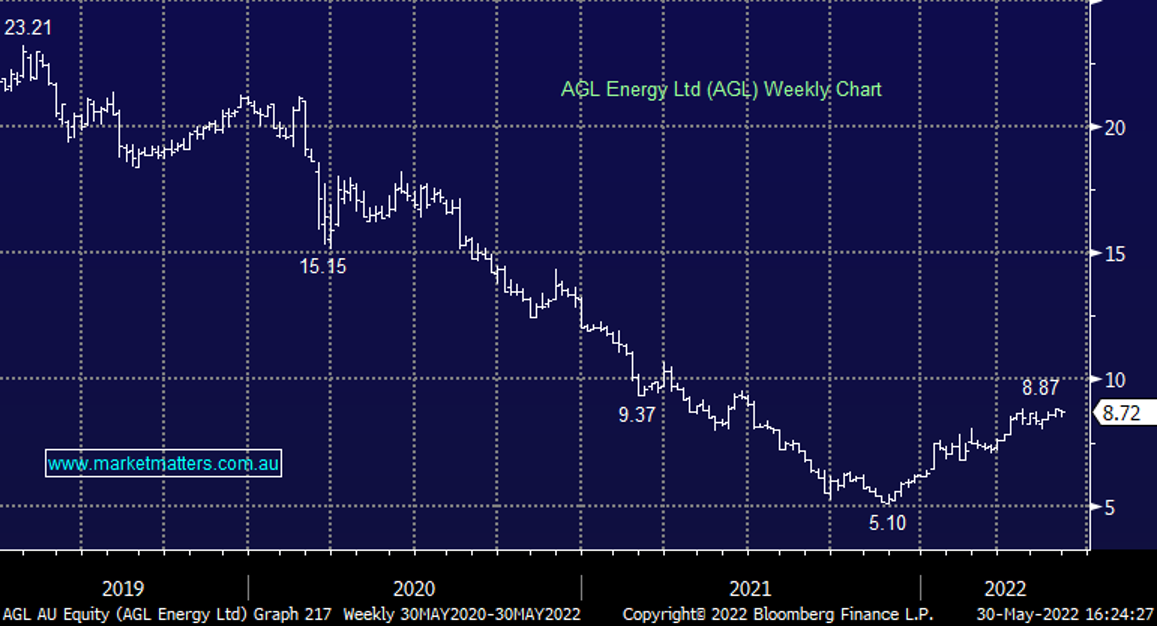 Broker trips
Capricorn Metals raised to buy from Canaccord; PT $4.20
New slipway classified as mineral resources at Jefferies; PT AU$62
New purchase evaluated by Allkem at Jefferies; PT $16.50
Pilbara Minerals listed New Hold in Jefferies; PT$2.80
The big movers today
Have a great night,
The Market Matters team.
Make informed investment decisions
At Market Matters, we write a direct and concise note twice a day about our experiences, stocks we like, stocks we don't like, topics you should discuss and risks as we see them. Click here for your free trial.
Match Out will be available every day after market close. Follow my profile to be notified when the latest report is online.