USD/JPY weekly forecast: will the turn become a dip?
USD/JPY closed below 128.00 for the first time since April on Thursday.
Rising Japanese inflation, falling US Treasury and yen rates.
Prime Minister Kishida comments on the weakness of the yen and the Japanese economy.
After two months of unprecedented weakness, the Japanese yen has been lifted from its 20-year low by a combination of economic, fundamental and technical factors that could herald a change in circumstances.
The main logic behind USD/JPY's 14% gain between March 7 and April 28 was rising US Treasury yields, while Japanese government bond (JGB) yields were largely flat. Since trading above 3.0% earlier this month, the US 10-year yield has fallen as recession fears are reflected in plummeting stock prices. The 10-year yield closed at 2.893% on Thursday.
Federal Reserve Chairman Jerome Powell remained adamant that the central bank will fight inflation regardless of economic developments, but many in the markets doubt rate hikes can continue at the expected pace if the economy went into recession.
Japanese inflation was significantly higher in April than expected. The national CPI was 2.5%, more than double the 1.2% rate recorded in March and its highest level in eight years. The consensus estimate was 1.5%. Core CPI came in at 0.8% on a forecast of -0.9% and March's rate of -0.8%. It is possible that the Bank of Japan (BOJ) will moderate its extremely accommodative monetary policy with high inflation.
Prime Minister Fumio Kishida made a rather unusual comment that rising commodity prices compounded by a weaker yen are making life difficult for households and businesses. His call for close ties with other central banks seems to hint at coordination even if intervention to strengthen the yen is highly unlikely. For an intervention to have a chance of success, it would have to be done in collaboration with other major banks, the Bank of Japan (BoJ) would not be able to effect a permanent change alone.
China lowered a key interest rate to help its lockdown-ravaged economy, which could help Japan's export sector and companies doing business on the mainland.
Finally, several technical indicators suggest that USD/JPY may have reached an impasse. The MACD (Moving Average Convergence Divergence) saw its negative divergence widen and the Relative Strength Index (RSI) fell back to neutral.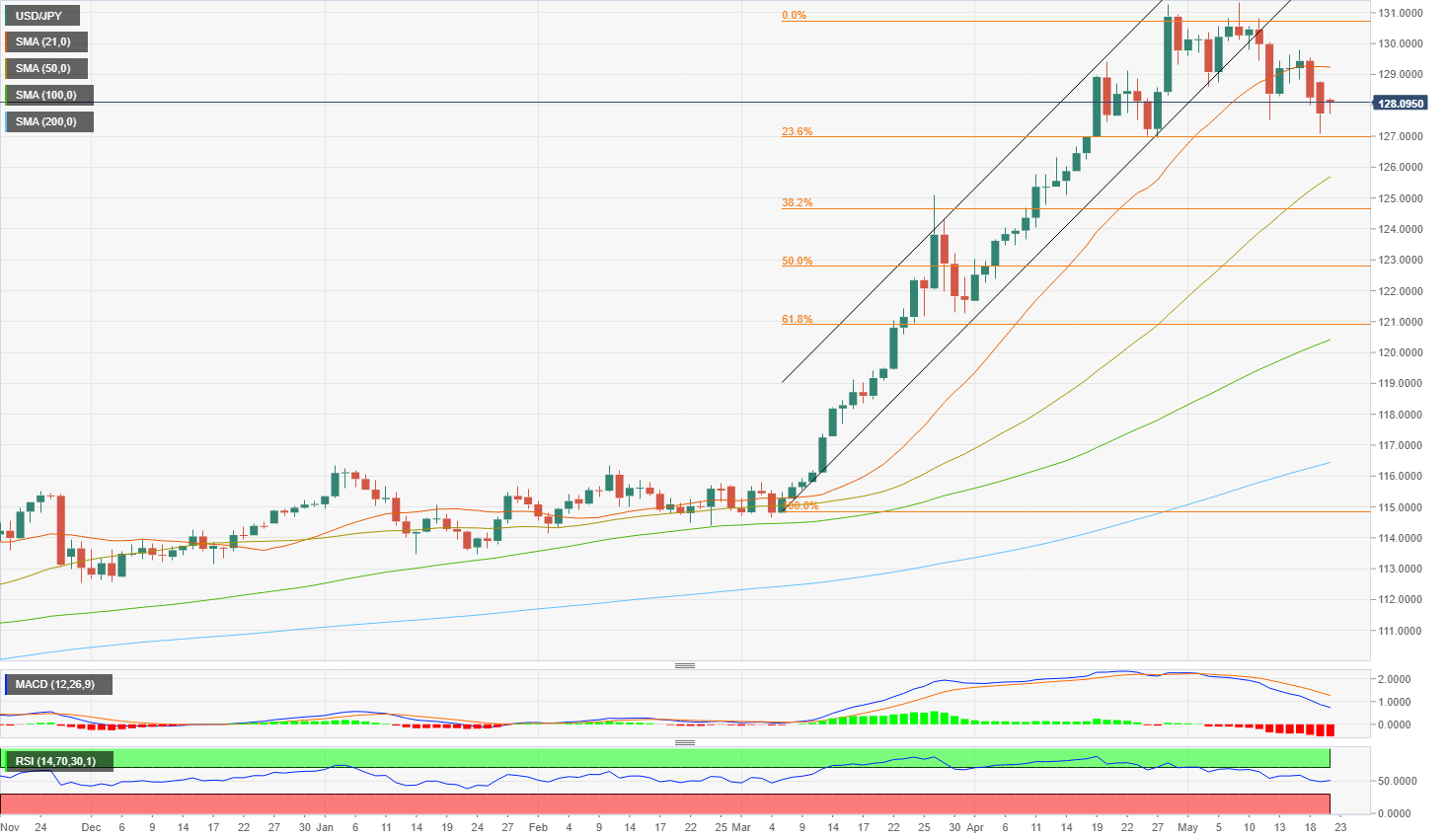 In the United States, April retail sales were better than expected and temporarily boosted inventories. Building permits fell sharply in April. Sales of existing homes, 90% of US markets, fell to a 22-month low. Home purchases were held back by rising mortgage rates which hit a 13-year high of 5.25% this week.
US stocks fell for the eighth straight week, weighed down by poor earnings reports from several major companies and gloomy economic prospects from consumers
USD/JPY Outlook
The US dollar retreated to multi-year highs against the euro, British pound and all major currencies except the Canadian dollar. The Dollar Index fell from a more than two-decade high on May 12.
The rise in the US dollar following Russia's February 24 invasion of Ukraine is beginning to dissipate as the stalled war appears much less likely to produce further shocks to the global economy.
US Treasury yields may have peaked, at least temporarily, and the next Federal Open Market Committee (FOMC) meeting is four weeks away on June 15. upper federal funds target of 3.0% or more at 65.7% for the December 14 FOMC. These ratings have been relatively stable for the past few weeks and are priced into the markets.
All in all, the profit taking pressures on USD/JPY, currencies in general and the credit market will increase as markets move higher. In USD/JPY, the Fibonacci retracements from March to May are intact with the first 23.6% at 126.98 and the 38.2% at 124.66.
Japanese and US data for the coming week will not bring any changes to the chart. Tokyo CPI for May is expected to rise to 2.7% from 2.5% in April. In the US, durable goods orders for April are expected to repeat retail sales news. Q1 GDP receives its first revision, any surprises here could impact markets, significant adjustments are underway but they are happening. Personal spending for April will be interesting as the Bureau of Economic Analysis has released a series of actual spending with the numbers adjusted for inflation. It is not widely covered but will be much more indicative of the state of the consumer and the economy than nominal retail sales figures.
The outlook for USD/JPY is weaker.
Japan statistics from May 16 to May 20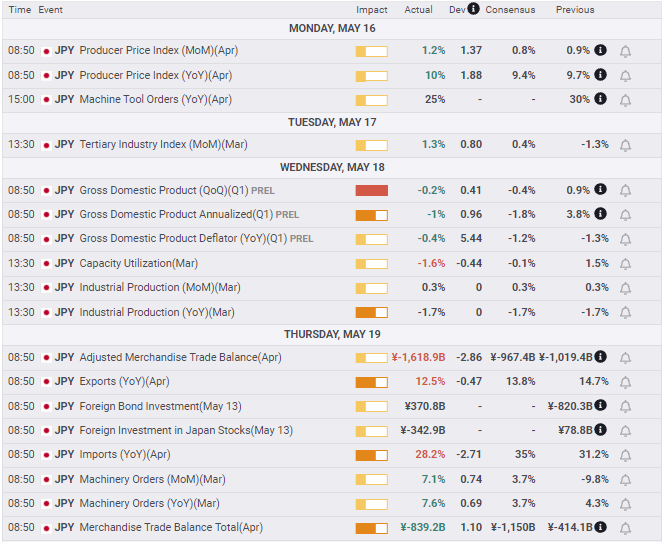 FXStreet
US statistics from May 16 to May 20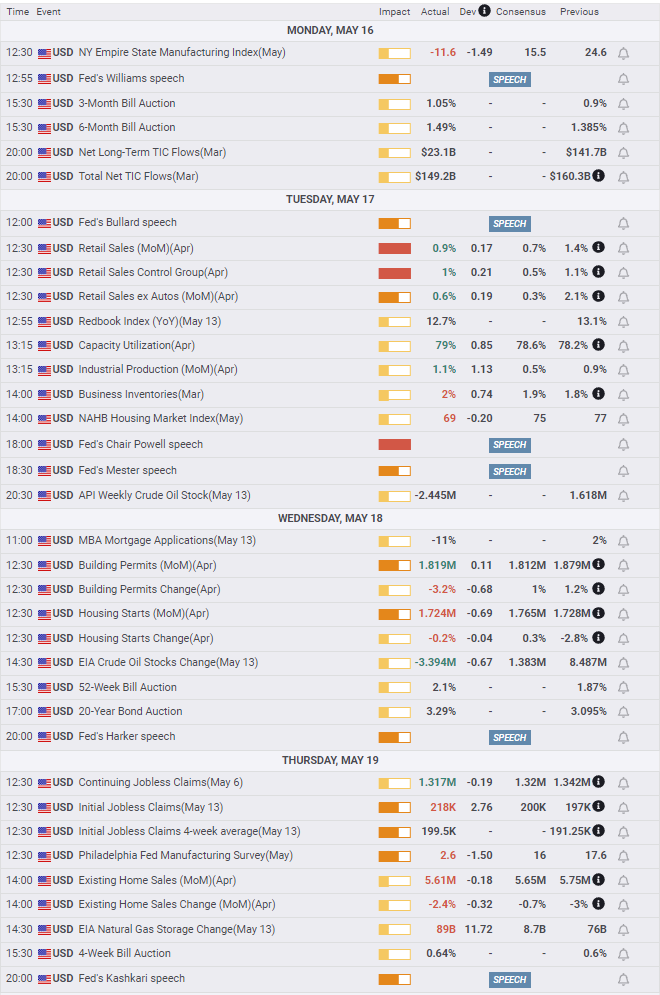 FXStreet
Japan statistics from May 23 to May 27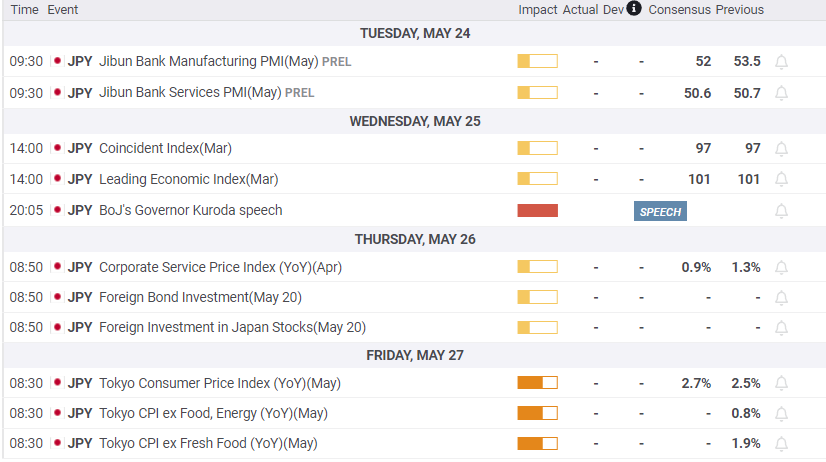 FXStreet
US statistics from May 23 to May 27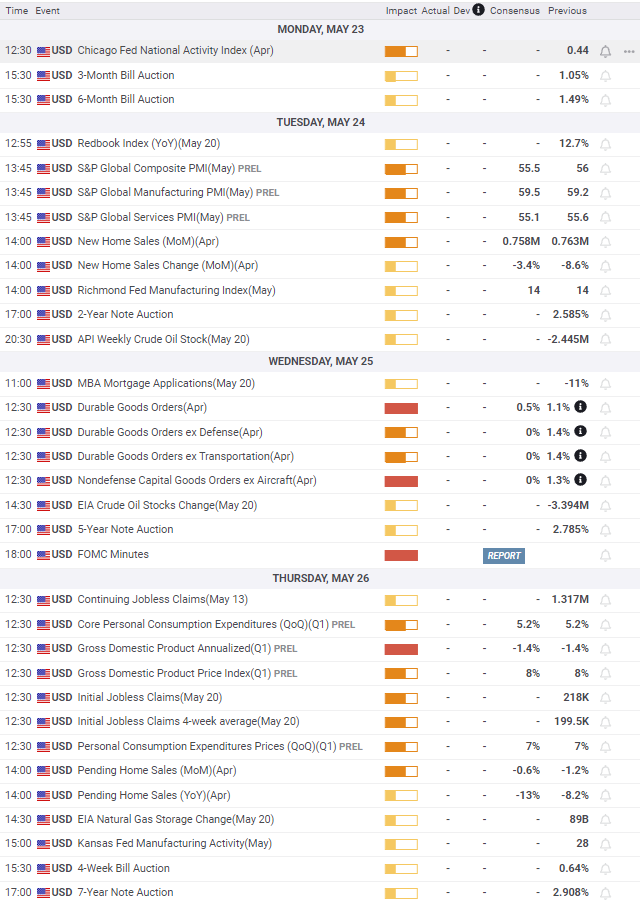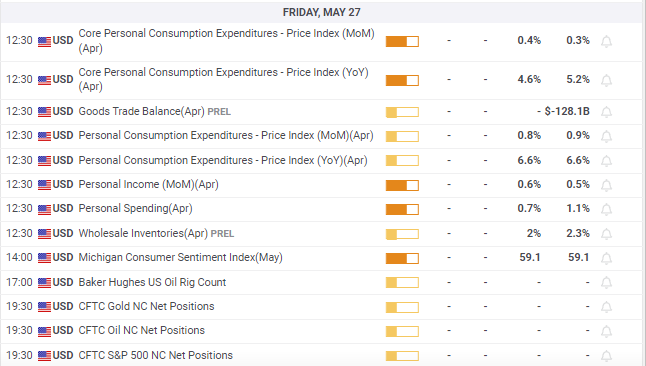 FXStreet